I've told it here many times:
I like season!
- that is, I advocate for buying product in season and not out of it. I've just arrived from Malaysia, which is truly a beautiful country. However, they have more or less only one season throughout the year. The Malaysians say that right now, there is more haze until the end of August, but that's only because the blokes of Sumatra are burning forests.
My first shopping trip in Switzerland led me to Migros, my favourite groceries store (among the affordable ones - I loaf the other major one [Coop] because it has far too many organic stuff). I was delighted to discover that the three summer season yogurts have arrived:
lime & green tea
kiwi & gooseberry
peach & passion fruit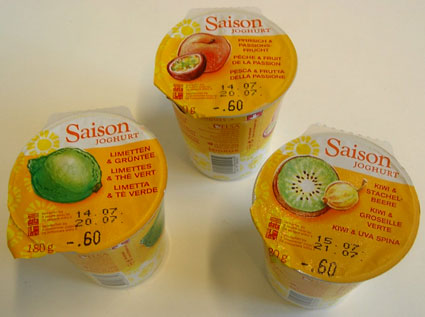 This morning I went straight for the tasting and the result was devastating. I could not decide for a winner. I like them all. Everyone is unique and matches perfectly with summer. I reckon that my current mood will have to decide. Do I want to have it pleasantly zestful (lime & green tea), cross-grained acidulous (kiwi & gooseberry) or passionately fruity (peach & passion fruit)? Hey, it's good to have summer season!