On
Sylv
's request, here comes the menu of my nephew's confirmation meal. It will be prepared and served by Toño, Tina and me this Thursday (a.k.a. May Day, a.k.a. Ascension Day, a.k.a Peter's Confirmation Day). Since this will be lunch, we will restrict ourselves to four courses.
Soup
Beef Consommé Celestine (Flädlisuppe) based on a home-made broth.
Salad
Iceberg lettuce with cucumber and melon balls at a
Sbrinz
dressing.
Main Course
Low temperature veal roast with lemon-honey-rosemary icing, soured milk with herbs, potatoes and veggies.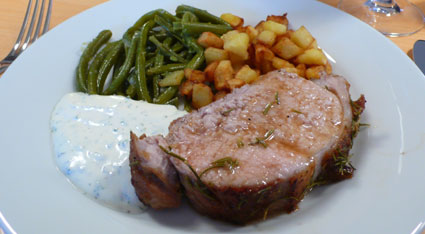 Selection of Desserts
Black Forest cake (my sister's work)
Roulade stuffed with dried pears cooked in red wine and blue cheese, and with port wine gelée
Lemon drizzle cake
Apple-amaretti "tiramisu"
The Wines
White:
Assemblage Sequana
, 2006
Red:
Burgherrewy
Pinot noir Grand Vin, 2005
Sweet:
Vin Santo
del Chianti Rufina, Villa di Vetrice, 1990.
PS: The
coffee machine
is back and running. Giuseppe Messina repaired it two days faster than promised.