Gauss Jordan
tagged me *so flattered* to do
this
'game', or 'activity' or whatever you want to call it
, which should answer where I blog from.
The Drawing Room
Well ,this is the drawing room of our residence, Toño does not like it when I blog from there, but I don't like doing it from the office/guest wing. This is the first view: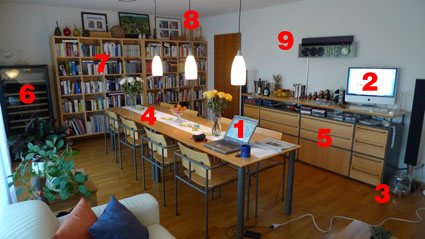 [bigger]
Main blooging tool: My mobile computer. It's completely outdated and has to be replaced but I just can't decide on what should be the next one.
Main blog following tool: Toño's iMac, which is used mostly by me. It also serves as telly.
Subwoofer for the iMac.
Table where we entertain guests. If you ever come to our lovely city, you might give it a try.
Sideboard with all the audio media. Table, sideboard and some more furniture are from an office furniture line by Randers in Denmark.
Ostentatious temperature-controlled wine cabinet
Some books on a shelfs designed by gomad.ch
Lithography by Roman Signer. Toño does not really like it, so it's up there.
BeoSound 9000 with BeoLab 8000 s. I had a very tiny apartment until 10 years ago (16 m2/172 ft2) and the BeoSound was the only one that fit between bed and bookshelf. Of course linked to all major rooms in the residence (which is like 2 more)
This is the view from the opposite side: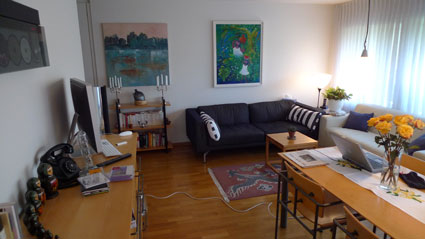 [bigger]
Please note the amazing artwork from Mexico. The carpet on the floor, I'd received from my Nepali guide who dragged my old carcass through the Himalayas (
detail
).
The Office
I would never violate the sanctity of my caring employer's regulations and blog from my office or with office tools. But let's pretend I would. Then I were to blog from here: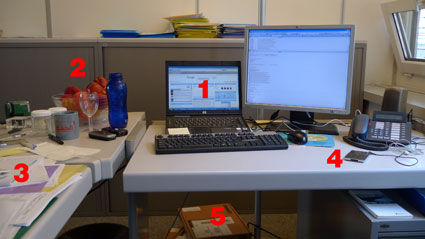 [bigger]
Computer
Fruits, coffee mug, water bottle, wine glass & mobiles
Areal filing system (Toño calls it

mess

)
Sound
Spare keyboards for my laptop. I tend to eat loads of fruits while at work and they spoil my keyboard. I have 4 spare keyboards left, until I need a new computer.
The Mobile Office
If I'm travelling, it looks more like this: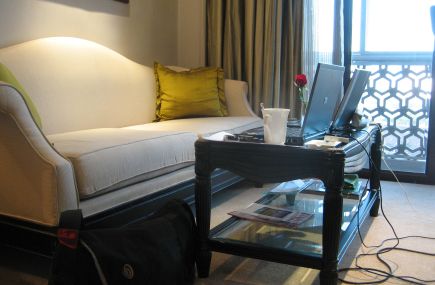 This picture was taken at the Taj Mahal in Mumbai where I spent several months during the last year. It was a pure (and lucky) coincident that I was not there during the attacks last year. And yes, I travel with at least 2 laptops.
I reckon, I'm supposed to tag somebody. I f I kept the overview correctly, so far this has been purely a male game, hence I invite all my female readers to participate.
Terms & conditions
apply.