Sine I'm on a business trip, I'm parted again from Toño ... and when I'm asleep, I search for him in vain.
When I come back from work to the hotel here in Fredericksburg, VA, I usually go for a 25 minutes walk to the next Starbucks to sip a latte and
enjoy
the sunset behind the shops.
So you can imagine my mood when I was cuing for my shot and discovered a New Wave sampler on the shelf, full of music that carried me through my teenage years. Yes, I had to get it - only to drive my sentimental mood into the next level.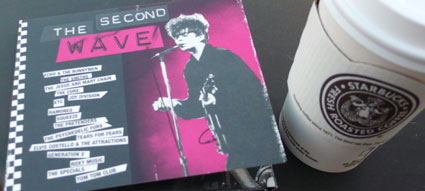 Roxy Music:
More Than This
The Pretenders:
Brass in Pocket
XTC:
English Roundabout
Jesus and Mary Chain:
Just Like Honey
Tears For Fears:
Everybody Wants to Rule the World
Joy Division:
Love Will Tear Us Apart
The Smiths:
Hand In Glove
Echo & The Bunnymen:
Never Stop (Discotheque)
The Cure:
In Between Days
Ramons:
I Wanna Be Sedated
Squeeze:
Another Nail in My Heart
The Psychedelic Furs:
The Ghost In You
Generation X.
Dancing with Myself
The Specials:
A Message to You Rudy
Tom Tom Club:
Genius of Love
Elvis Costello & The Attractions:
(What's So Funny 'Bout) Peace, Love and Understanding