For once, a kitchen experiment failed. I tried to make gape jam, which was not one of my best planed projects. But who was I to know that this is so hard to do?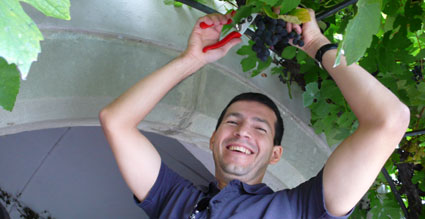 I used fox grapes (vitis labrusca), which Toño helped me to pick. We Swiss call them also Americano or Chatzenseicheler (cat pissers). These grapes have a distictive taste which make them perfect for jam, but unfortunately, they also have huge pips. I only realised this when I'd finished the first round of jam.
I then decided to pick the pips from the next kilogram of grapes. No pigeons at hand, this Cinderella like task took almost two hours. This can't be the solution. I could make jelly, but I somehow prefer jam to jelly. Any suggestions?