Finally some good news: Toño was granted Swiss citizenship yesterday evening! The process of naturalization is not yet completed, but from now on it's only long-winded bureaucratic paper shoveling. However, Toño's office pals couldn't wait till then and already equipped him with the bare Swiss essentials.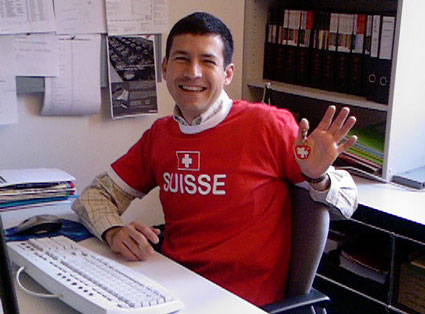 We Swiss like to do things our way. That's why we have a triple level
citizenship
(Confederation, canton and community). Every Swiss is a citizen of his/her place/community of origin, his/her canton of origin and the Confederation, in this order: a Swiss citizen is defined as someone who has the citizenship of a Swiss municipalities (art. 37 of the
Swiss Federal Constitution
).
The procedure to obtain it is rather tedious. After filling endless forms and questionaries, Toño had to wait several months, until he was invited to a course on Swiss history and political system.
The mayor and his associates of the town government summoned him to a test on the subjects taught before. But what did they know themselves? It was Toño who had to tell them that the
opera
by Rossini on
William Tell
is far better that the
play
by Schiller.
After some further waiting, Toño was summoned to an interview with a commission of the town parliament. They wanted to find out how well Toño has integrated himself into Swiss behavior and social structure. He could shut them up by explaining that he cooks according to the recipes of
Le Menu
, a publication of the Swiss dairy farmers (they really asked about his diet).
Finally, yesterday evening, there was the big vote in the town parliament. From 38 possible votes, Toño received 28, 9 abstained (cowards!), and a bloke of the right wing
Swiss People's Party
said no to him. How could he, even the lady from the far-right Swiss Democrats with the bad hairdo could not resist his charm. Who cares. It's done, if no one of his (soon to be) fellow citizens raises an objection within 20 days.