As every decent human being, I try to buck the trend when ever possible. I really do. But this Sunday at 5pm all defences caved in when I switched to the
Schlussgang
(last round) of the
Eidgenössische
where 20-year-old Wenger Kilian won the
Schwingen
tournament unconquered. As a result, he was declared King of Schwingen (Schwingerkönig)
Schwingen, the very traditional way of wrestling here in Switzerland, seems to have become the latest trend. City slicker who used to go to tango classes when they were not sipping mojitos are now apparently practising Schwingen.
Well, and now I got caught as well. Today when I went groceries shopping I grabbed a copy of Schweizer Illustrierte featuring our new king.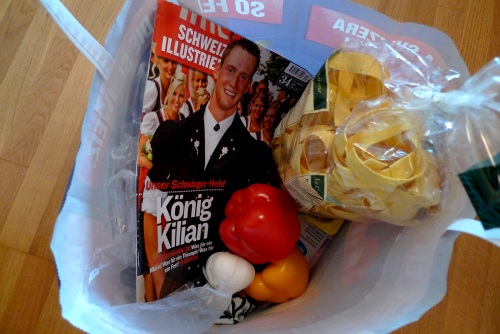 A week ago I had to preferred death to having seen a copy of it on our coffee table. But they've got this 15 page special about our new hawt king. Sorry, I just could not resist.