Finally last Friday, Toño and I executed the right Swiss voters gave us on June 5, 2005. At 14:40 pm, while we were sitting in comfortable red chairs, Mrs. Solombrino asked us The Questions and handed us the pen to make the most important signatures in our lives.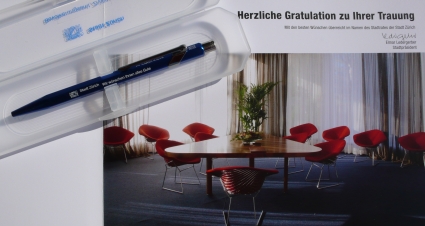 Toño is now my registered partner and I am his registered partner. Our marital status is called "in registered partnership". Despite this complex designation, it is one of the best things that ever happened to me. It is simply great to be deliriously loved up. And it is even greater to be loved by Toño.
We will not only never forget this day, because we received the pen we used as a gift, but also, because we got a congratulation card by the second best mayor in the world.