It's
Friday
- kind of Black Friday to be precise. Despite the fact that the Black Party will not be for another month, I'll have to wear black tonight.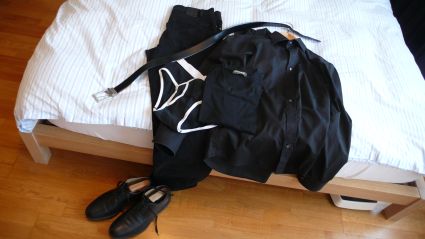 Why? It's because:
tonight will be the

Night of Swiss Wine

, which is kind of a Swiss Wine Award Show

the economic crises.
Last year
, I got - thanks to Toño's caring employer - the VIP treatment including a room at a 5 star hotel. However, this year everything is completely different.
From 5 pm till 6:15 pm I'm supposed to work as cloakroom attendant. From 6:15 till 8 pm I will be a scene shifter, changing one tasting set to another. From 8 till 9:30 pm I will be a waiter at the tasting. For all this, dress code is "black".
Nevertheless, It's not all gloom and doom. I've been promised a warm handshake. And thanks to my insistence, a kiss.