I haven't bored you with a recipe in a while, so I do it again. This time it's for
chestnut stuffed paupiettes with mashed pumpkin and potatoes on the side
.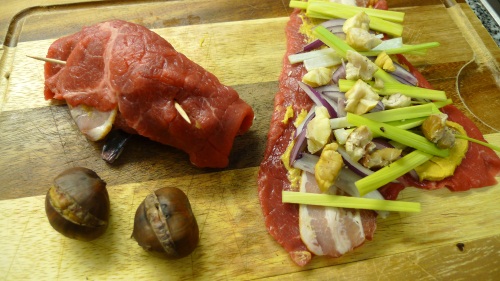 I asked my butcher to cut me some thin slices of beef and Toño brought me some roasted chestnuts he got from a street vendor. The slices of beef we smeared with mustard, added a slice of ham, thinly sliced leek and onions, topped it with rough crumbs of chestnut, and seasoned with salt and pepper. Seas Everything was rolled to nice paupiettes.
The paupiettes were briefly fried and then removed, the remains in the pan were used to make the sauce with flour, white wine, beef stock, thyme and rosemary. When the sauce was boiling, the paupiettes and the remaining stuffing was added again and braised for 50 minutes.
For the mashed potatoes, we replaced a third of the mass by pumpkins, which we processed together with the potatoes.