Well so far, the conference was not that exiting, however, I got sufficient wine.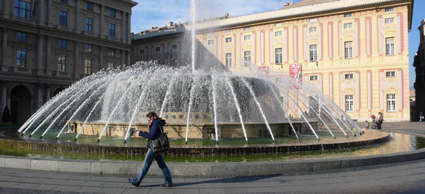 At lunch I shared the first bottle with two Spanish exhibitors.

Then early evening, my boss and a colleague of mine arrived and we went for an apéritif to a local bar. There are plenty of bars in Genoa, however, it turned out to be difficult to find a decent restaurant. With the help of another barkeeper, we found a small seafood restaurant. They did not have a written menu and none of us speaks any Italian. We just nodded and grunted somewhere in the list the waiter was reciting and got some delicious dishes which we washed down with plenty of wine.
The one for dinner was a Lagrein form Alto Adige. The one for dinner was a Nero d'Avola from Sicily. This means that I manged to get pissed within a few hours by entire Italy.