People have the strange habit to give us Kirschstengeli (= chocolate sticks filled with cherry brandy and dipped in cocoa powder).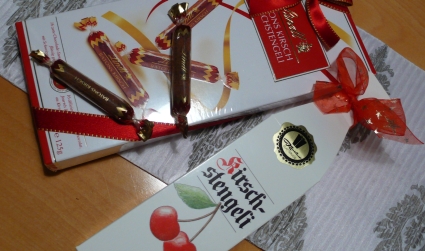 Please don't get me wrong, both Toño and I love receiving presents. Very much so, indeed. But our aversion to Kirschstengeli conjoins us too.
Toño can't eat chocolate at all, because it gives him heartburn. I can enjoy chocolate for a very brief period, until it shows on my waistline, which again both of us don't quite like. However, if you give me chocolate combined with liquid liquor, this is absolutely unpalatable for me.
If you still have the desire to give us a present, try it with a bottle of wine, two were even better.
Does anyone want some Kirschstengeli?