I honour season and I honour buying local. Sometimes one just cannot adhere to these principles, such as when the asparagus season is about to clash with our holidays in México. Not wanting to miss the pleasure of asparagus dishes, I had no choice but buying specimens which were imported from México and the U.S. of A. Just another mark on the shovel already waiting for me.
I don't get my titties in a twist for the classical French style version of serving asparagus, where boiled or steamed white asparagus is combined with hollandaise sauce. The best asparagus I've ever had were slim green ones marinated and fried in olive oil. That was in Valencia in the small restorán Pata Negra. I tend more to the green version, were the asparagus provides the flavour and not the sauce.
That is what I made Toño preparing with the asparagus I brought home from the market:
Pasta Primavera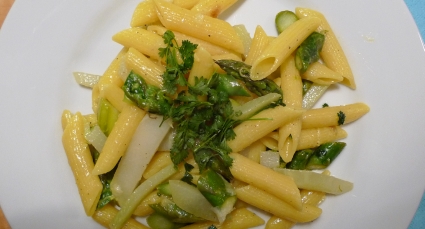 The pasta is cooked in saffron flavoured water. Roughly chopped turnip cabbage and asparagus are braise lightly in butter. Everything is mixed, seasoned with lemon juice and zest and grounded cheese, heated up and sprinkled with chervil. A good way to start spring.
Plov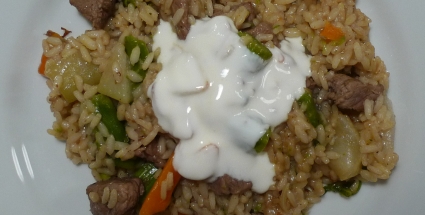 Plov is also called pilaf, polao, pilau, pilav, or pulao. Plov is often considered to be one of the oldest preparations of rice. I ate my first real Plov in Baku at the Caspian Sea back in 1988, when I travelling Central Asia. Rice, vegetable and lamb make the best combination. We topped it with yoghurt, which was flavoured with butter roasted garlic. Probably not a dish you should serve before an extended kissing session or on a first date.
Asparagus Soufflé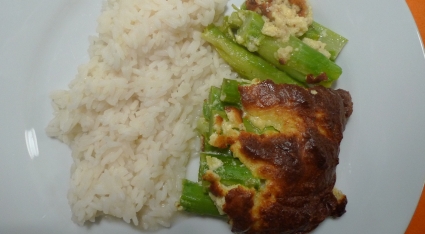 I just remember that I did this. It's surprising how the soufflé mass enhances the flavour of the asparagus. I never would have expected this.
Boneless Chicken with Asparagus and Morels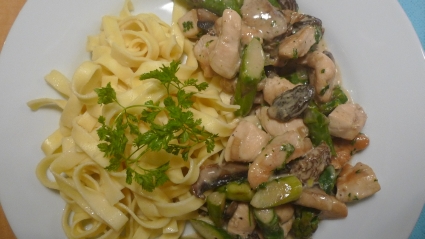 It was a bit difficult to get fresh morels, but it was definitely worth the hassle. We will make this dish again. Luckily, we made enough then you just can't stop eating this.