We've reached La Huacana, where we can enjoy the fine cooking by Toño's sister Chilo. The first lunch she served us today was Pollo al Cuñete with pineapple, almonds and dried plums.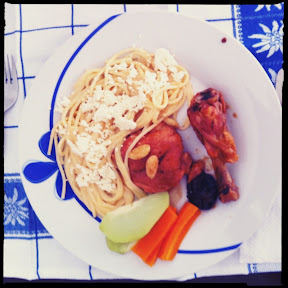 Start with a chopped pineapple, dried plums, a bit of water and a bit of white balsamic vinegar. Blend the mixture and pass through a sieve. Fry the chopped chicken in olive oil complemented with a bit of butter. Season every piece with salt and pepper while frying and add some pressed garlic after turning them over. Put the chicken pieces with the sauce in a casserole, add some plums, peeled almonds, a couple of chilli jalapeño, some sugar, peppercorns, marjoram and bay leafs. Put the casserole with a lid on into the oven for 1 hours and 20 minutes at 200C/390F. Remove the lid after 50 minutes.
Yes, I did ask for a second servings.
PS: If you have no peeled almonds, put the unpeeled ones in boiling water. The skin should go off in no time.
Location:Morelos Norte,La Huacana,Mexico