Toño and I are in deep trouble. Our wine cellar is almost completely dried-out.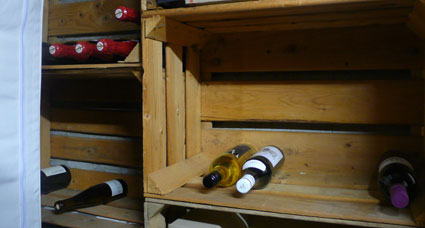 But it's autumn and Zürich has this wine fair called
Expovina
, which is located on 12 ships on the lake of Zürich. Toño has to be there quite often to represent his caring employer, i.e. Toño works in the wine business. Hence last Saturday, he received the task to get us a.s.a.p. off the waggon again.
He ordered 6 bottles of each wine:
Châteauneuf-du-Pape "Fiancée" Domaine La Barroche, 2004
Château Sainte Eulalie "La Cantilène" Minervois, 2005
Mas du Soleilla Les Chailles, 2005
Domaine des Soulanes Jean Pull, 2005
Dominio de Atauta Cosecha, 2003
Torresilo Cosecha 2005
Finca Terrerazo Cosecha - Tierra de Terrerazo 2004
El Perro Verde, Rueda DO, 2006
Murice Grianza, 2003
Cantos de Valpiedra Cosecha, 2005
Lanzaga Cosecha, 2004
Las Rocas Cosecha - Calatayud DO, 2005
Norton Privada, 2004
Weinert Malbec, 2003
Enrique Foster Malbec Reserva, 2004
Perdriel Single Vineyard, 2004
I reckon, this should bring us through the next three months.