Tomorrow, I will embark again to India. But today, since there were no
Bürli
left at the canteen (the Bürli is the only reason why I eat there), I went out to grab a sandwich. And guess, my hand grabbed a Tandoori Chicken Sandwich (and a
Traktor
smoothie).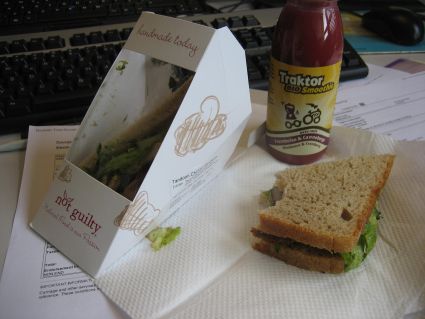 This trip to India will have two premiers:
I will be in New Delhi for the first time. This means, that I will have to travel with both white collar outfit (meeting in New Delhi) and blue collar outfit (sailing off Mumbai).
I will fly
Kingfisher
for the first time. The eyes of all Indians start to shine as soon as you mention that you will fly Kingfisher. They are not allowed to serve any
Kingfisher beer
in the air, so there must something else about this airline. I'll tell you as soon as I'll know.