My brother has a young Udmurtian farm help from
Ижевск
in the Western Urals. She went home to celebrate Новый Год (New Year) with her parents. For that, she wanted to bring them a cuckoo clock from Switzerland. Since I'm always cruising around the world, Toño went to buy one for her.
Toño has a distinguished taste and so he did not buy just any cuckoo clock, but The Cuckoo Clock (hand made, Swiss made, precise, beautiful, you name it). Of course, this was beyond the budget of a farm help being exploited by a Swiss farmer.
Well, we are no brutes and gave the clock to her as a present. Татьяна offered to bring something from Russia in return.
Bring us some cans of Шпроты (sprats)
, I demanded.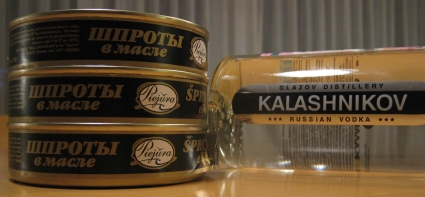 Tatiana is a smart girl and got the hint. She brought some cans of sprats and the only thing that goes along with them - right, Vodka.
It's not any vodka but Kalashnikov Vodka (Caliber 500 ml x 40°), since Mikhail Kalashnikov, the inventor of the AK-47, lives in Ижевск.