This Saturday I had my first
Kingfisher Airlines
experience. I did not know what to expect, nevertheless I had had some expectation since Kingfisher promises
the journey of a lifetime
.
Lounge
This was a bad start for Kingfisher. The bartender had an attitude I did not like, the AC was either off or on blizzard mode, and you had to make a kowtow in front of the receptionist to get any information on the two hour delay of the flight.
Boarding
You can let porters carry your carry-on. This increases the queue at security and causes some shoving in the aisle, because the porters have to leave somehow after they dragged the bags into the overhead compartments.
The Seat
Unlike in Europe, you actually get a business class size seat. It's not the latest model, but you get sufficient room. The interior design (and crew uniforms) have a light sixties touch - the time when flying was still something exiting.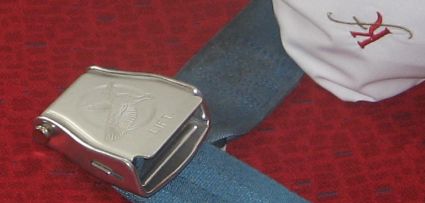 Comforts
There are some nice thrills like your jacket gets ironed and your spectacles get a nice polish.
Dining
The appetizers were amazing: An asparagus and broccoli soup with Parmesan croute, and almond crusted Camembert with fig and Port reduction. There were four main courses to choose from, two non-veg and two vegetarian. I went for an Asian style steamed halibut, which left no room fro dessert.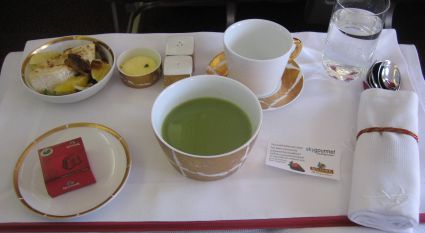 Entertainment System
The flight was only close to 2 hours with all the fine dining and a well written book at hand, there was no time to check.
Bottom line
You are really well taken care of as soon as you are on the plane. That's about it. The real experience of the day came after the flight. More on that in the next post.