My former flatmate Tigresa gave Toño and me a yearly subscription of
Du
, a Swiss magazine on culture, as a Christmas present. Today, we received the March issue, a special about 200 years of México's Independence from Spain.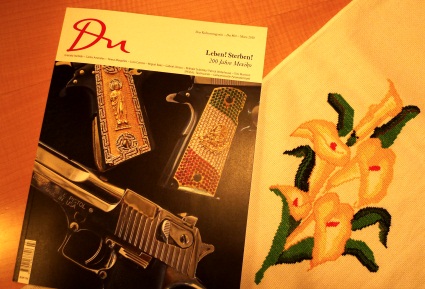 Coincidentally yesterday, Toño was chanting...
Banderita, banderita.
Banderita tricolor,
Yo te doy toda mi vida
Y también mi corazón.
... because it was Mexican Flag Day. And it was only a week ago that we booked a trip to México for Easter. A niece of Toño will be baptised. So far, 300 guests have been invited. We were asked to share the cost for the band. I happily agreed, though I did not know yet that it will be
Banda music
. Not really my favourite kind of entertainment. But I reckon, it will be 1 against 299.
We will only be in México for a couple of weeks. Toño signed up again with his former employer, and they will be in the middle of the relaunch of their magazine. It was even difficult to get this break.
So till then, I should get a chance to read this issue of Du. I only breezed through it, and it looks really promising. Many thanks, Tigresa.
Update at 11:30pm
Toño's sister Silvia gave birth to a cute girl in Morelia.
Toño is right know on the phone with relatives in Los Angeles, and what I understood from the Spanish conversation, we will spend New Year's Eve in L.A.