I'm a news junkie. When I come into a hotel room CNN or BBC News is on before I even put done my bag or take off the shoes. And the first hour of the day is devoted to newspaper reading in bed. So every time I come home from a business trip, I soon start to work on the pile that Toño carefully built for me.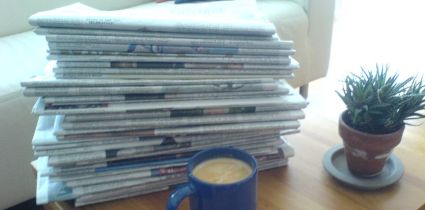 What I got out of the pile? Not much, to be honest:
The next major of Zürich could either be a lesbian or a woman that looks younger by the day *yawn*.
The Lumix G1 might be my next camera *yeah*.
A reviewer dared to say that Antony and the Johnsons' new album The Crying Light is not as good as everyone thinks it is *bastard*.
I found the perfect book for the desperately needed holidays in April *longing*.