Do you remember
this
? There was also a first wedding banquet on June 7, 2008 - exactly half a year ago in the courtyard of my clan's residence. My then almost 85 year old father even cleaned the 395 year old house with the hose to impress our
friends
and relatives.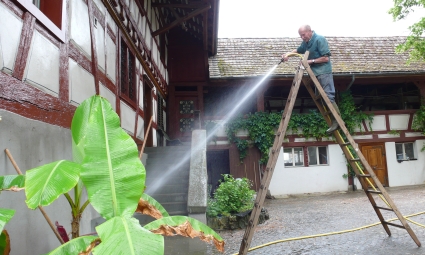 Toño's & mine job was to bring the location, a tent with tables and last but not least the guests.
We made a Wine & Dine (& maybe Dance) and all parts in that were organised by our friends Alicia and Thomas...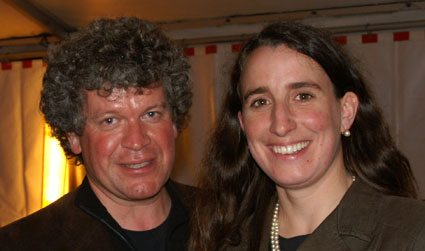 ... such a brilliant chef, loads of wine and music.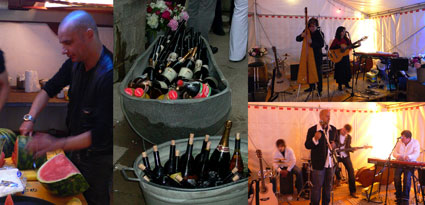 We hopped that they could engage Chris Trewer as our chef - and they actually did. We were once at a wine and dine to the theme black & white. It took place in an atelier of a painter who made huge paintings in black & white only and Chris Trewer served a stupendous menu in black & white. Chris Trewer was Gault Millau's Swiss discovery of the year 2000, he then cooked Zurich's restaurant
mesa
into Gault Millau points, before he opened his
own place
.
Chris Trewer prepared a six course menu in the tractor den, during which his oven broke. This did not knock him out of his stride, he just did everything on the barbecue. His menu was combination of Thurgau cuisine (my heritage) and Méxican cuisine (Toño's heritage). The same concept was applied by Alicia and Thomas for the selection of the wines. Only the champagne came from France.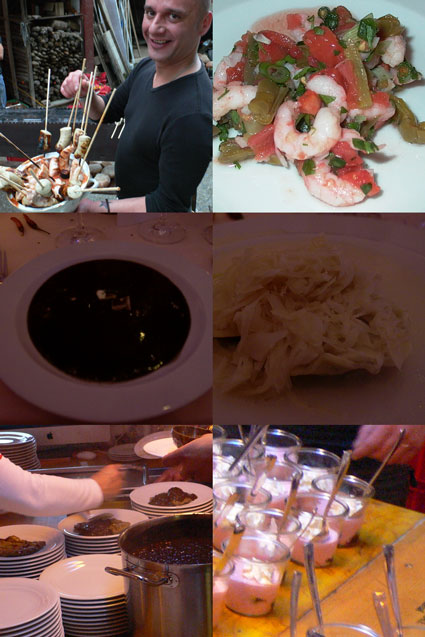 Aperitiv
Thurgau bread roll with herb dipp
Tortillas con salsa de frijoles negros picantes
Thurgau sauseages on a skewer
Champagne Brut Blanc de Blancs Grand Cru, Champagne Bonnaire
Starter
Ensalada de camarones con
nopales
Sequana 2006, Weisse Assemblange, Wolfer, Weinfelden, Thurgau
Soup
Sopa de
huitlacoche
Chardonnay 2005, Bodega Santo Tomas, Ensenada, Baja California
First Main Course
Thurgau style dumplings with sauerkraut, pears and apples
Burgherrewy Blauburgunder Auslese 2006, Wolfer, Weinfelden, Thurgau
&
Tempranillo & Cabernet Sauvignon 2004, Bodega Santo Tomas, Ensenada, Baja California
Second Main Course
Mole poblano de guajolote con tortillas
Burgherrewy Blauburgunder Grand Vin 2006, Wolfer, Weinfelden, Thurgau
&
Terra Don Luis Selección 2003, Vinicola La Cetto, Ensenada, Baja California
Dessert
Plums Thurgau style in a glas
Müller-Thurgau edelsüss, Wolfer, Weinfelden, Thurgau
Photos by Thomas, Beat, Tigresa & gomad.ch