I was a bit overhasty by calling it a
bad day
. Almost pure joy came only after I'd left the coalface.
Feel Good
Swimming was exactly what I needed. Our master shark is back from her sailing holidays off Sardinia and did not like what we did to our technique during her absence. Especially the last section of the arm stroke did not find her approval and she really concentrated on setting that straight.
Feel Better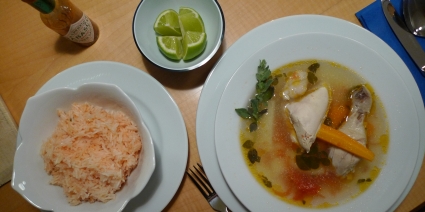 Toño made a Mexican chicken soup for dinner with
estragon
sorry oregano to cure his cold.
Feel Wonderful
The new album
Lotusflow3r
by Prince arrived today. My favourite track so far is the cover of
Crimson and Clover
.

Arme Sau
**
Only Toño is far from good, better and wonderful. A first sign was that he did not serve any wine for dinner, which is almost unheard of. He thought that he might have some
fever
. I've measured 39.4°C/102.9°F. I made him a thermos of fresh tea with lime juice, he dropped a couple of
aspirin
treupel and is now back in bed. No hanky-panky today :( as I said, only almost pure joy.
* just one of the fabulously funky tracks on Lotusflow3r.
** poor swine - this is how Toño refers to himself right now.