Today, coincidentally and independently, both Toño and I spent a middle fortune on the carnal satisfaction of our personal fetishes.
Toño is a vine aficionado and had been conceiving the desire for a temperature-controlled wine cabinet for quite some time. Finally today, he ordered an ostentatious wine cabinet for our drawing room for up to 133 bottles with 3 distinct temperature zones:
one in the centre for maturing wines in ideal conditions (10-14 °C)
one at the bottom for chilling (6-10 °C)
one at the top at room temperature (16-20°C).
Meanwhile, I got myself a brand-spanking new fork for my beloved GT Zaskar LE bike.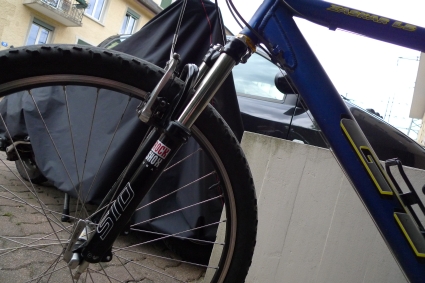 I bought my Zaskar LE in August 1998 after I'd spotted it at
Cycle Shark
. It was love at first sight and I just could not sleep any more until we were united. It was purely a dick-driven decision since I owned already a titanium hard-tail with similar characteristics (light, strong, stiff, tight, agile, extremely fast).
Back in 1998 RockShox had just released their revolutionary RockShox SID (
Superlight Integrated Design
) fork. Unfortunately last winter, my SID fork reached the end of its lifespan and could not be retrofitted. In other words, its tubes were fucked up beyond all recognition.
Blessing in disguise,
SRAM
(which bought RockShox) has just completely redesigned their
SID collection
. I went for the SID Team which weights just 3.27 lbs / 1485 g. The price jump to the SID World Cup was a bit too steep ($300) to save further 0.05 lbs.
Nevertheless, I just want you to know that we are not to blame if the economy does not kick-start and does not get its titties in a twist in due course. I wish you a randy Spring weekend.