I'm currently in Bangolore, India for a three day meeting. Only on Monday evening we came back from México, where on the weekend, we had the pleasure to meet and
dance
with
Dzyan
*.
On Wednesday, I flew to India; and this morning at 7am I finally made it to the pool, just to realise again that I'm not a morning sports person, especially when being jet-lagged. In addition, I realised that I'm just not exhibitionist** enough to exercise in view of the the pool side breakfast restaurant and the treadmill robots.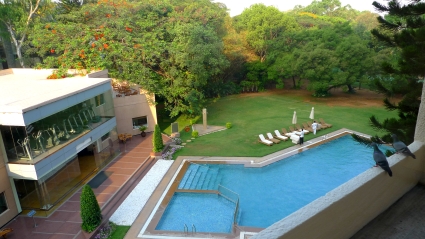 * go there, meet him - this is highly recommended!
** or just have a "tiny bit" too much fat on the hips.