I finally made it back from India on Friday. Lufthansa's booking system was a tiny bit overstretched with the situation and indicated my booking often as cancelled (though not always), however, everything went just fine.
Thus I could enjoy an almost summer like weekend, however, our balcony was far from ready for summer.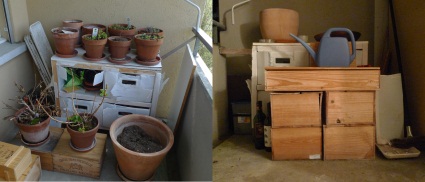 I like to store certain things on the balcony of our residence. We haven't got a cubby, so there is no alternative place for gardening tools, bike maintenance tools and garbage to for recycling.
The problem is, that there are hardly any durable outdoor storage furniture available. As a (too long term) intermediate solution I once bought these really cheap plastic chest of drawers, which really have fallen into ruin.
After a long quest and over-stretching Toño's patience, I finally came across Container DS, which were designed by Kuno Nüssli for MAGAZIN®.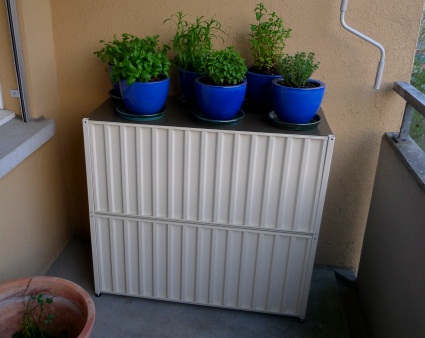 This sideboard system is inspired by oversea freight containers and thus is made of durable metal. It is not an outdoor furniture but it should be fit for the task.

We spent all Saturday cleaning the balcony, getting rid of waste, re-potting plants and potting new herbs. Now summer may come :)