The antithesis to our
discreet neighbours
is our nearby bakery.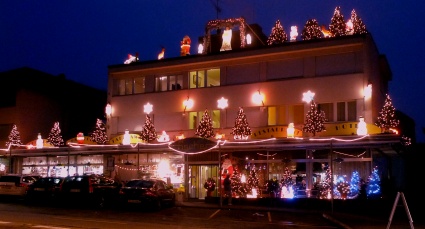 For readers from the U.S. of A. this might be a humble reference to Christmas. For our culture (which even bans minarets) it's way over the top. Inside the bakery, it's even worse (I did not dare to take pictures there).
Our baker has a passion for American style decoration and American style cars, but unfortunately not for bread. Which is really a pity, since I so like good bread. So I have to walk to further afar and less illuminated places to get my fix.