Chräbeli translate to small scratches (the German speaking part of Switzerland uses the diminutive extensively). Probably the name is derived from the serrated shape of the cookies, which might cause scratches. But who cares, I like them because of their aniseed flavour and they are really easy to make.
Ingredients:
500g caster sugar
4 eggs
2 tbsp aniseed
a pinch baking powder
tbsp cherry brandy (optional)
460 - 500 g flour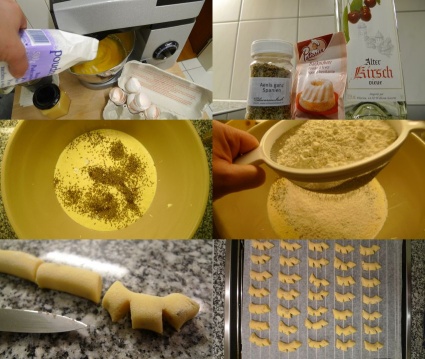 Mix sugar and eggs for about half an hour. Add anise, baking powder and cherry brandy (optional). Sieve flower onto the mixture and mix carefully.
Roll dough to finger-thick rolls. Cut diagonally into 5-7 cm long pieces. On a long-side, make 2-3 diagonal incisions. Bend to a slight horseshoe shape.
Put on a baking tray (with baking paper or greased and flour dusted) and let them rest at a warm place over night.
Bake at low heat (about 120°C/248°F) for 30 minutes. The top has to remain white. On the bottom little "feet" have to grow. If the feet don't appear, they need to rest a bit longer.
Source: Cookbook of the Cooking School Winterthur, published 1949