Due to all the dancing on the vibes of spring, brunch had to be postponed to early afternoon.
The table on the balcony was loaded with a hearty Bircher müesli, aged
sbrinz
, cheese treated with chardonnay, cheese treated with elderberry wine and Manser's
Bürli
.
However, the pièce de résistance was the delicious
Bresaola
Chiavennasca from the
Valtellina
*.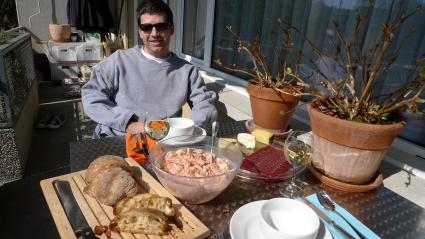 * Valtellina would be part of Switzerland, but it was lost due to the pathetic all-or-nothing strategy of the Swiss delegation at the Congress of Vienna.