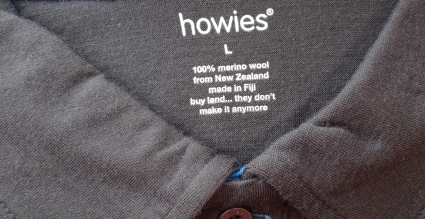 howies
Added later
I found something on the
made in Fiji
in
howies
' spring catalogue:
Back in 2000, I fell in love with Merino. I loved its function, its quality and
most of all that nature provided it. And because it came from the land, one day after it had come to the end of its day, it could return to the land too. I was sold. I still am.

It was my answer to all those petro-chemical base layers out there, which I know from using them, just don't do what the packaging says they do. (Nice packaging though.)

Around a year ago, we started a project to find out what the footprint of each of
our products was. David Hicks sat in front of a computer collating the data, and also working out what it meant. To find out the truths and not just what we had assumed.

And the truth of it is we didn't like some of the results.

Moving the production of Merino from New Zealand to Fiji a couple of years ago to save a few pennies had increased our carbon footprint many fold. And we didn't even know.

What we had not been aware of was that the fibre goes from New Zealand to China by boat to be made into yarn, and then the yarn goes back on the boat to New Zealand to be made into fabric. Then it goes off to Fiji to be made into our garments. Once made it then goes back to New Zealand before it is flown onto LA. Then to London. Then finally to Cardigan. No matter how you looked at it, it didn't make for good reading.

That said, Merino is a truly great product. The best there is.

And because we use the highest grade that we can find, ours has a great reputation. And regularly wins the awards against all the big boys.

But making it right now in Fiji doesn't fit with our aim to produce the lowest impact clothing that we can. That hurts. But the truth isn't always what you want it to be. So we have to change.

So right now, we are looking into spinning the yarn in New Zealand and making the garment there. If we can't, then it makes more sense to make the garment in China rather than Fiji. Doing that would mean each Merino product would travel 17,181 km less miles per garment. And this would cut our carbon footprint down by 95% (down to 0.12kg).

Only when you can measure something can you improve it. A hard lesson learnt.