Serendipitously I found out that John Steinbeck's
The Grapes of Wrath
had been published 70 years ago.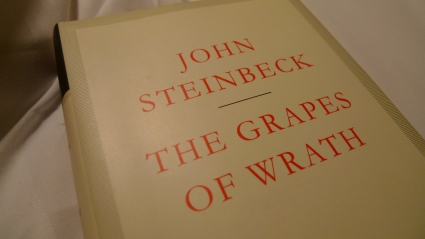 The first Steinbeck I'd ever read was
In Dubious Battle
. The book was given to me by Tigresa some years back. A brutal yet passionate book. I then bough this copy of
The Grapes of Wrath
, but did not start reading it until today. This spring I devoured
East of Eden
. It somehow felt like swimming in a river. So, I'm really looking forward to this book.
Stay passionate and Godspeed!
Mr. Urs
Added Later
How could I forget to mention this.
East of Eden
was a present by the lovely Ms.Mac :) It looks like I really had to be shoved into Steinbeck.