The wedding of my brother and Татьяна is over. Everything went well. My sister, Toño & I could run a catering service. We complement each other perfectly.
The only problem was that we kind of lost control over the guest list, which was made only last Sunday at a family conference (like all organisation). The first signs were when people started to
RSVP
, who had never been invited. In other words we had no idea how many people might show up. In the end, 20% more than invited sat at the tables. Quite successful for a invitation that went out only days before the event.
The farmers in our village have the tradition to give a young animal as a wedding present. The idea is that the freshly married couple fattens the animal and that all farmers are invited to partake when they succeed.
My brother and Татьяна received this lovely piglet.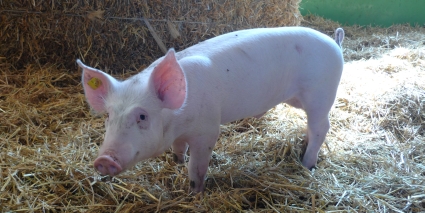 Isn't it cute? But it's also quite shifty. When my brother and neighbouring farmer Franz were installing the fodder and water dispenser, it leaped through the ajar door and escaped into the meadow. Well if you're a piglet, better don't mess with pig farmer Franz. In not time it was back in the shed.