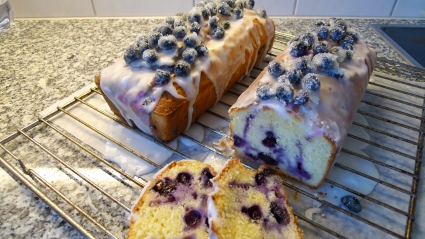 Preparation: about 30 minutes
In the oven: about 1 hours
For 1 cake mould of about 26 cm/10 in in length
Baking paper for the mould
Dough:
260 g flour
40 g cornstarch
2 teaspoons baking powder
200 g sugar
1 pinch of salt
1 packet of vanilla sugar
½ lemon, zest and 2 tbsp of juice
3 eggs
175 g butter, liquid & cooled
1.5 dl buttermilk
150 g blueberries
Garnish:
100 g blueberries
1 egg white, lightly beaten
Sugar
Icing:
200 g powdered sugar
1½ tbsp lemon juice
1-2 tbsp water
Mix flour, cornstarch and baking powder in a bowl. Add ingredients of the list up to the lemon zest. Stir lemon juice, eggs, butter and buttermilk, pour to mixture. Mix to a smooth dough. Add the blueberries carefully. Pour into the mould, which had been laid out with the baking paper.
Bake for 60-70 minutes at 180 °C/356 °F. Let it cool out on a rack.
Garnish: drag berries through the egg white, and then through the sugar. Let them dry on a kitchen paper.
Icing: Mix all ingredients to a thick icing. Pour over the cake. Let it dry a bit and spread some sugared berries on the top. Let it dry.
[
Source
]