Toño is an ardent wine aficionado, however, he knows little about how wine is actually made. And since he is more the haptic type, we used the opportunity of staying at a top-notch wine domain to get in touch with the grapes.
On the first day here at
Mas Du Soleilla
, we went with winery owner Peter Wildbolz and his régisseur into the vineyards and observed how they decided on which grapes are to be picked next and when will they be due to be picked.
Maybe this Syrah...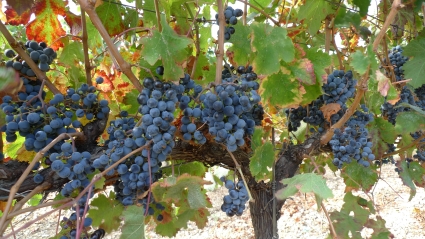 or this Grenache Noir...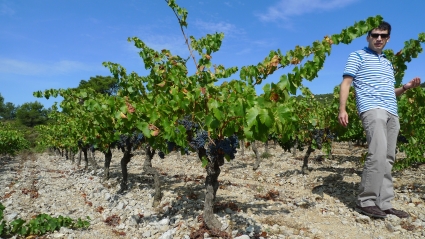 but not yet the Bourboulenc, which will not be ready before October.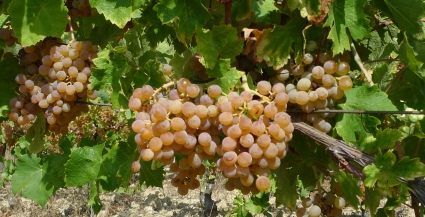 Over the years Peter Wildbolz & Christa Derungs have gradually moved their applied cultivating methods toward organic. This really shows by plenty of animals which inhabit their vineyards.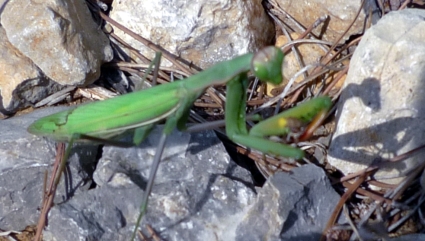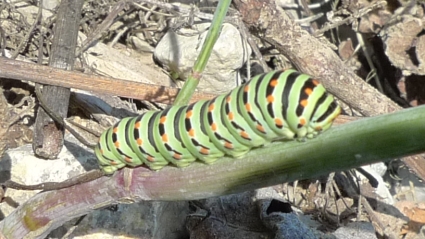 For white grapes, the maturity of the tannins which reside in the skin seem to be the decisive factor. For the red ones, it is how they part (like an apple) and the colour of the pips that are mainly taken into account.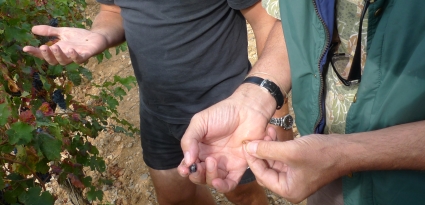 On Wednesday, we actually spent a day in the vineyard with the picking crew. Pilgrim would have had no problem to understand this motley crew. Maghrebi Arabic and French were the linguae francae. Unlike on too many other vineyards in the Languedoc, on Mas Du Soleilla the grapes are picked manually and carefully handled in small crates. The picture below was taken in the morning, when we still felt fresh as a daisy. The merciless sun and hard labour of picking and carrying crates took quite a toll. Luckily, we signed up for only one day. Harvesting grapes is a tough job.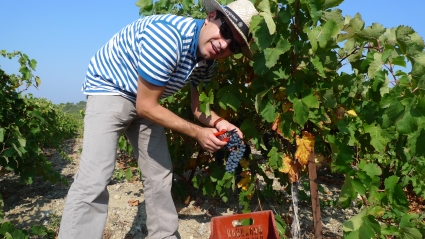 The freshly picked grapes are constantly carried back to the wine cellar, so that they are processed within an hour after they had been picked. A fabulous machine removes the grapes from the stems and idle hands get rid of everything one does not desire in the further process.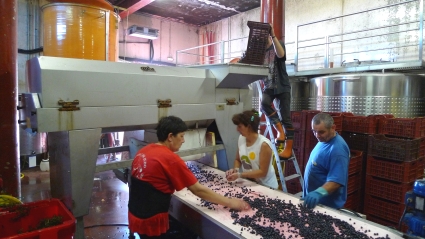 Here the communality ends. Each variety and even each plot is handles individually to produce the best wine possible. Of course, the process has to be carefully monitored and frequent tasting is mandatory :p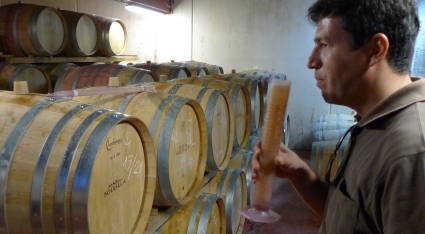 Once in a while it is not a bad thing to get ones hands dirty. So you appreciate a good glass of wine even more.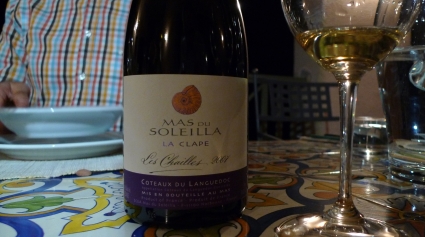 Cheers! I wish you a fantastic weekend. We will be heading home tomorrow.