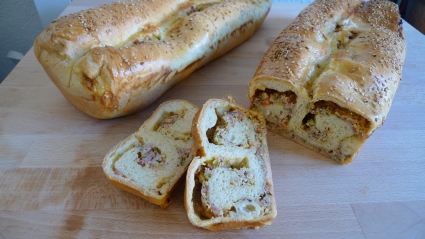 Preparation: about 45 minutes
Rising: approx 2 hours
Baking: about 1 hours
Serves 4 or 8 as aperitif
For 1 cake mould of about 28 cm/11 in in length
Baking paper for the mould
Dough:
300 g of flour (⅔ wheat + ⅓ spelt)
3/4 teaspoon salt
15 g yeast, crumbled
1.75 dl milk, lukewarm
60 g butter, liquid & coooled
Stuffing:
250 g ham, very finely chopped
1 spring onion, finely chopped
1 tomato,
monder
, seeded and cut into small cubes
2 gherkin in small cubes
100 g semi-bold curd cheese
100 g Parmesan cheese or Sbrinz cheese, grated
1 egg, beaten
2 tbsp chopped parsley
1 pinch of curry
Salt
Pepper from the mill
2 tbsp mustard for coating
Garnish:
1 egg, beaten
1-2 tbsp sesame seeds
Mix flour and salt and make a hollow in the middle. Dissolve yeast in some milk. Pour yeast with rest of the milk and the liquid butter into the hollow. Knead to a smooth dough. Let it rest covered at room temperature to double rise.
For the stuffing, mix all ingredients and season.
Roll out dough (rectangular, 3 mm thick, 28 cm wide). Spread mustard mustard onto the dough (leave a 2 cm margin at the sides). Spread the filling onto the mustard. roll the dough from 2 sides toward the middle. Put into the mould, which had been laid out with the baking paper.
Let it rest for 30 minutes at room temperature. Brush with egg, sprinkle with sesame seeds.
Bake for 55-60 minutes at 180 °C/356 °F.
Serve warm or cooled out. Goes well with a mixed salad.
[
Source
]