We are having a simple pasta dinner but Toño is serving a wine that just makes me awestruck: Atteca Old Vines 2007 by Bodega Ateca.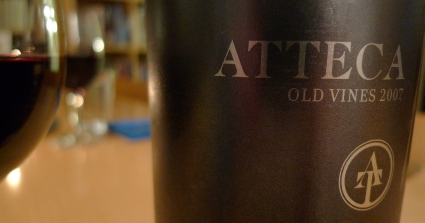 'Old Vines' says it all. They are almost as old as Methuselah. Some of the Grenache vines were planted in the last decades of the nineteenth century. This is kind of the watershed in vine age (think
phylloxera plague
).
But how does this wine made of old vines taste? Toño smells ripe flavours of plums and Amarena cherries. The body is well structured with ripe tannins. Despite its intensity it is very elegant. As usual for wine of old vines, it can be stored for some further years, but we live here and now. Cheers!