In a comment to an
apple post
by
MartininBroda
,
naturgesetz
wrote:
there's no better way to use apples than in a good old fashioned simple apple pie — just apples and sugar and pie crust, maybe the lightest touch possible of cinnamon and/or a drop or two of lemon juice, if you must. But it should taste of apples, not a lot of other stuff, and it doesn't need other ingredients to make it "interesting."
We have such a dish that might please naturgesetz' palate. It is called Wähe or
Waie
, which is
Alemannic German
. But there are various names for it. I personally call it Dünnle. I only know four other people who called by that name.
Whatever, a Waie is basically a short pastry shell with shallow sides, no top crust, and any of various fillings, such as fruits, cheese or onions.
This is how I make an Apple Waie:
I like baking but I loath making short pastry dough, thus I usually buy it ready made. I like the taste of whole grain flour for this dish, but my supermarket of choice has recently replaced that with an organic white flour version. Meh.
Put the flattened pastry on a buttered baking tray, pull up the edges a little and pierce the dough repeatedly with a fork. Sprinkle a thin layer of ground hazelnuts onto the dough.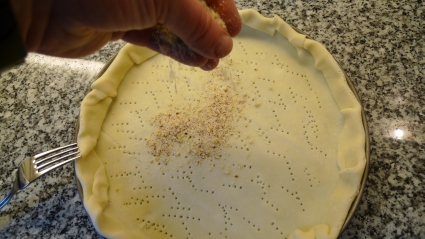 Peel the apples, remove the core and cut to thin slices. It is not essential to use a gold-plated peeler, but it feels so much better. For the apples I recommend the Boskoop variety, or any type that is rather tart and keeps its shape when cooked. Arrange the apple slices like a shutter is constructed (or how would you describe this?)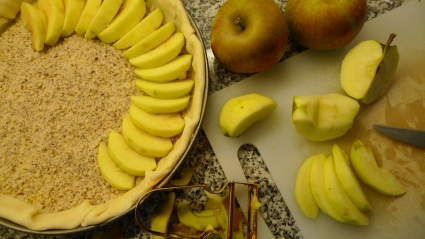 For the filling I use 2 dl of cream, 1 egg, some vanilla sugar and some ground cinnamon. Beat it briefly but firmly before pouring it over the Waie.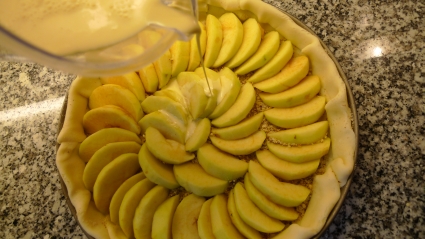 Bake it for 25 to 30 minutes at 250°C/480°F.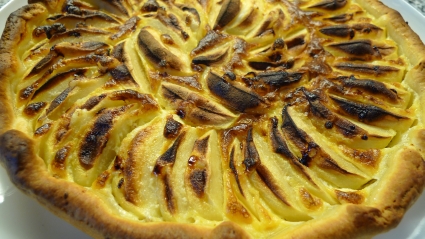 My mother used to serve tea to Apple Waie (this was the only time we drunk tea at home besides of when being sick), however, it also goes perfectly well with some champagne.