It is only 7 weeks until my Swiss compatriots will decide whether I will loose my job, be cast out and shoved into the lumpenproletariat*. Thus it seems appropriate to see if there is a life beyond hedonistic indulgence. Like today, when I decided not to go for the traditional Sunday roast and made some oatmeal soup instead.
Ingredients for 4 plates:
1 tbsp of oil
3 tbsp of oatmeal
0.8 litre of stock
1 small leek
some bangers (which might only be permitted temporarily- to smooth the transition)

Heat the oil in a pan. Add the oatmeal and fry it for a bit, before you add the chopped leek. Reduce the heat and keep stirring until the leek has softened.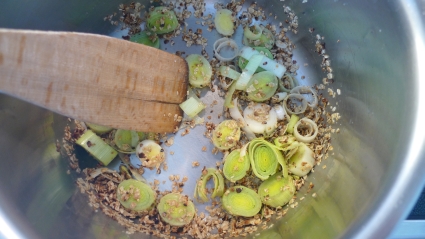 Add the stock. Season and bring to the boil. Reduce the heat, add the chopped bangers and let it simmer for 30 minutes.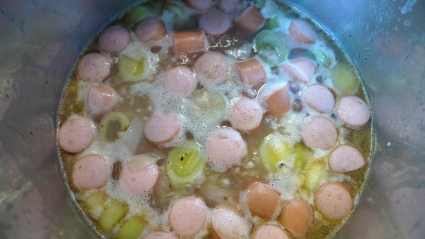 Serve the soup with some bread. You should buy the bread a day in advance since people eat less bread, when it is a bit stale.
* The initiative for an export ban on Swiss arms is on the ballot of the November 29 polling. The other initiative, the Swiss will have to decide on that date is the prohibition of minarets in Switzerland. Both are amendments to the constitution. We Swiss have the tendency to put the weirdest things into the constitution. Like we constitutionally prohibited both Absinthe and the Society of Jesus, nevertheless, both have been legalized some years ago, since we Swiss apparently have gained in strength to withstands such threads to society. However, some seem to think that the Swiss are not quite ready for harmful effects of minarets, and that world peace might suffer due to my ingenious mind.