Yesterday evening I had the pleasure to discover Alain Brumont a.k.a.
le roi de Madiran
. The event took place in a posh club here in Zürich, one of these places an ordinary mortal like me is normally not granted access. However, the discovery of the evening are both Alain Brumont and his wines. Both discoveries show what an ignorant I actually am, since both are already well known and valued in the world of wine.
The first part of the tasting was a vertical tasting - that is, several vintages of the same wine are compared. In this case this was the Château Montus Cuvée Prestige, which is nicknamed
Petrus de Madiran
. This wines is made from 100% Tannat, typically very concentrated, and high in tannin. Thus it is probably the absolute opposite of an approachable
New World
wine, yet in return blessed with daring character.
Blessed with character is also Alain Brumont himself. He is full of passion, however without any dogged determination. He has an excellent humour (for all I understood, everybody spoke French all the time) and although being at the pinnacle of his trade, eager to experiment.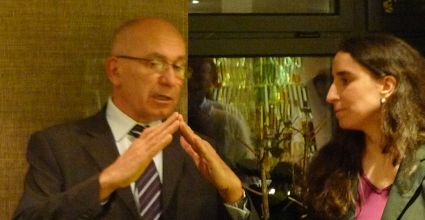 In the second part of the tasting (accompanied with tasty finger food) we could experience his other domains. There Alain Brumont showed that he does not only prevails at the top but is also able to make affordable wine with a stunning quality.