I doupt that this cake has anything to do with Russia. I think it's just a name given by to it. At least my sister-in-law Татьяна does not know it (and I don't think it's because she's not really Russian but of Udmurt origin). But
segs wies well
(as we Swiss say), here is how to make a Russian Plait.
Everything starts with a simple sweet yeast dough: sieve 300 g flour into a bowl, add half a tsp salt, 3 tbsp sugar and 60 g soft butter. Dissolve 20 g yeast in 1 dl milk and add 1 egg. Pour the liquid into the middle of the bowl. Knead to a smooth dough. Let it rest covered at room temperature to double rise.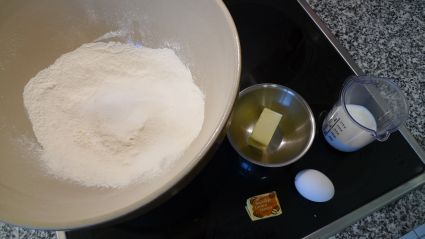 For the filling mix 150 g ground nuts, 3 tbsp sugar, 1 grated apple, zest and juice of half a lemon, 4-6 tbsp milk.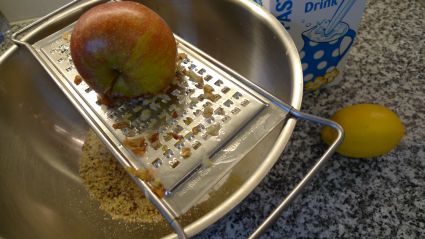 Roll out dough (rectangular, 3 mm thick, 28 cm wide). Spread first some apricot jam onto the dough and then the filling. Roll up neatly and cut almost in half along the roll.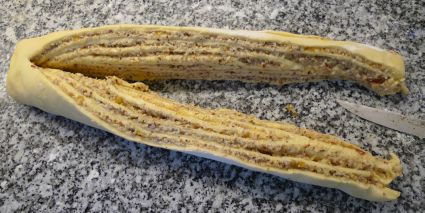 Make a nice plait.

Bake for 30-40 minutes at 220°C/428°F. While still hot, glaze with a icing sugar and lemon juice mixture.
It is recommended to let yeast pastry rest for up to 2 days before serving. This intensifies the flavour (according to my sister, who knos such things).