I hardly leave the house without my messenger bag. For over ten years, this has always been a black
Timbuk2
. But with winter approaching and thus cycling occurring again most in the dark, I decided to try a more reflective model this morning: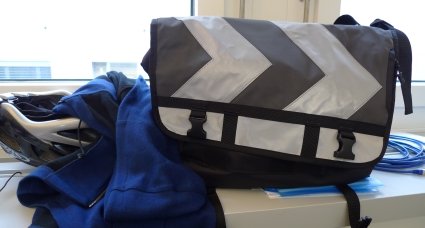 As you can see on the arrows, it's a British model, however, no car tried to overtake me on my right (so far).
My messenger bag usually contains at least:
2 mobbies (private & work)
grab & shoot (Lumix DMC-LX3)

towel
speedos
goggles
pool subscription

agenda
some fruits
some pens
some memory sticks
iPod
some hotel reward cards
some aspirin.
If I'm not about to cycle there is also something to read.