We have this flexitime thingy at work. That is, we can always be within ±40 hours of the time we are acutely supposed to work. However, if I'm over +40 hours at the end of the month, my caring employer cold-heartedly erases those above the +40 as if I had never lived through them. Yesterday, my figure was at about 42. Hence, I decided to stay at home this morning.
I woke up at 6am and
remained completely idle
was meditating until 9am. Then in the next 4 hours I:
cleaned the coffee machine

recycled glass (who drunk all that champagne?)

shopped groceries
yelled at the credit card bill (why is a hedonistic life style so bloody expensive?)
baked an apricot pie (with organic whole grain dough) for dinner (see picture below)
paid the bills (who ordered all that wine?)
washed and hanged to dry three machine loads of laundry (I strongly believe tumbling destroys the fabric)
swum a nautical mile (first time since a week, caught a spasm in the calf on Saturday during some nice activities :p)

sorted jocks and socks while watching The Daily Show.
fixed myself a quick lunch.

So, It's time to get some work done. I'm off to the office.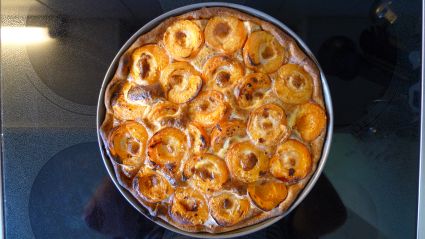 Added later
Here at work, I first had to clean the coffee machine. My colleagues have ignored its blinking begging for being cleaned for weeks. We really need at least one of torchy!'s cb.
Added even later
Decalcifying of the machine took 2 hours and coffee is tasting a bit funny now. I did not make many friends with this.