Ms.Mac
has recently indicated some interest in making
Coq au Riesling
, and since Toño made some today, I publish his standard recipe for inspiration.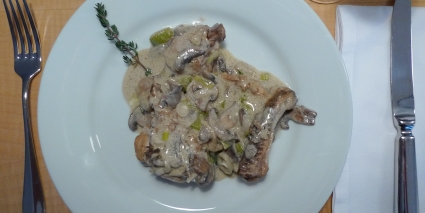 The recipe serves about 4 persons. It takes 30 minutes for preparation and 40 minutes to cook, which can be used for setting the tables and having an aperitif.
Ingrediant:
1,2 to 1.5 kg of chicken chopped in chunks
salt & pepper
clarified butter
1 tbs flour
3 dl Alsatian Riesling
2 bay leafs
3-4 twigs of thyme
200 g champignon
4-5 spring onions cut into rings
salt & pepper
butter
100 g crème fraîche
some drops of lemon juice
salt & pepper
Preparation:
Dab the chicken chunks dry with kitchen paper, season. Sear the chicken in clarified butter. Add flour, stir and roast gently. Deglaze with the Riesling. Add bay leafs and thyme and let it cook covered on a low flame for about 30-40 minutes.
Steam the champignons and spring onions in butter with salt and pepper.
Remove the chicken chunks from the liquid and keep them warm. Sieve the liquid to the champignons, bring to a boil and let it boil down a bit.
Add crème fraîche and lemon juice to the sauce, mix and season. Add the chicken.
Serve decorated with some thyme twigs, and some rice or a fresh baguette.
Of course a Riesling is the best choice, however, a brut champagne is also quite nice.