We tend to do the most silliest things under peer influence, and not even the
law of diminishing marginal returns
keeps us from doing so.
Usually after our Thursday swim, we hang out at the cash register of the gym which is part of the indoor pool, because Doris, who works there, is a good pal.
Right now they have this contest there where you can win a NEW 2-in-1 Quattro for Women Bikini - the world's first high performance razor that combines shaving and trimming in one
girly
gadget. 2-in-1 means:
Terrific Trimming
for a neat and fuzz-free bikini area.
Super-Smooth Shaving
for silkier legs, underarms and bikini area.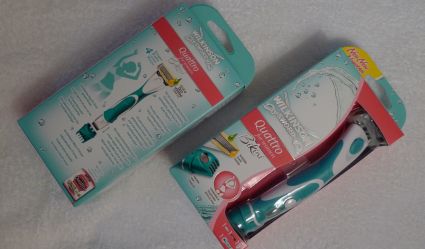 Well, Doris talked us into participating. If I had been alone, she would had no chance, but under the influence of my swim buddies I caved in pretty soon and Toño followed suit. In the end, 6 men and 1 women won such a device.
I can't talk for the others, but neither Toño nor I are keen to get a bikini in the near future, and we are already well equipped with manly gadgets to take care of what has to be taken care of.
So what shall we do? We can't give them to two of our female friends. You do remember the fabulous Gus Gus song Ladyshave:
I guess I must have messed it up, when I gave you the ladyshave.
Any suggestions?
Added later
The two 2-in-1 Quattro for Women Bikini are taken. There will soon be two more happy gals in the world.