This is Татьяна (and Toño).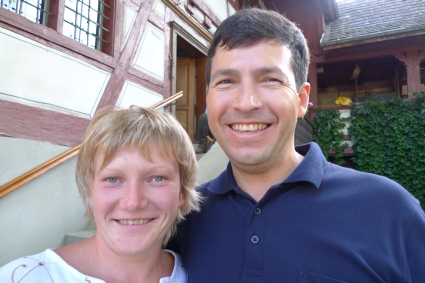 Татьяна did not like it when I took the picture, because she just spent the day picking gherkins on the field, she was sweaty and her hair was all messy.
Татьяна is my brother's milker*. But Татьяна is also my brother's fiancée. Татьяна is from Russia - that is, from
Udmurtia
** to be precise. Yes, this the 'home' of the AK-47 rifle.
My sister told me this news last week when we were talking on phone. There is not yet set a date for the marriage and my parents have not yet been informed***. Though due to visa issue they have to tie the knot before September. Toño so hopes there will be a big party.
By the way, Татьяна is spelled Tatyana in English.
* In Russia, milker is a female profession (according to my father), (Russian) men lack some qualities to excel in this job.
** Татьяна's native language is Udmurtian.
*** hence this is all hush hush and you haven't heard of it, поняли?