There are first times in your life, you never expected to do in the first place. Like for me, having a pedicure. However, Toño talked me into going for one and so I booked a combo with a haircut by Toño's figaro and a pedicure by his Ukrainian wife Olga. Well, Olga did a marvellous job* and turned my feet back to baby like smoothness**.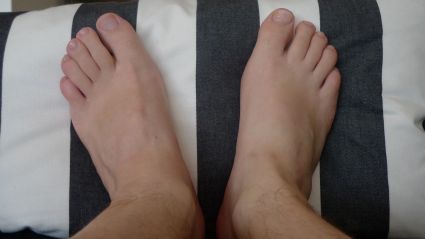 My left foot is looking a bit to the left. This is due to a skiing accident when I was 6. I broke my left shin and foot but the doctors only saw the shin break and fixed it with the wrong type of casting. It took several years until a doctor discovered the actual cause for my left leaning***.
* also by attesting that I did not treat my feet that badly myself.
** and the odour of the ointments she applied put me on a high for hours.
*** meanwhile I also broke my right foot but that did not compensate for anything.