We waited a long time but now summer seams finally to have arrived with sudatory heat during the day and the occasional cooling thunderstorm towards the evening. We had no choice but to adapt our diet to the new conditions. Here are three summer dishes and a desert we enjoyed this weekend. All take no time to make so there remains sufficient time to enjoy the summer.
Refreshing Pasta
Make the best penne you can get (made solely of durum wheat semolina and water!). Finely chop a glove of garlic, fry it in a bit of olive oil. Add sliced cherry tomatoes and season with salt and pepper. Fry for a few minutes and add chopped basil leafs. Mix everything to the penne and let it rest for a few minutes.
Wine: Castello San Sano, Chianti Classico, 2005
Rags Soup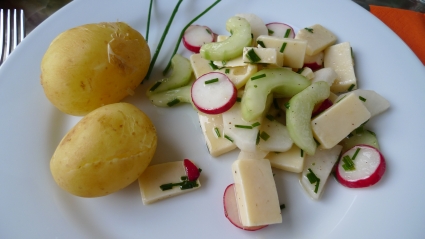 The red and white radish and the cucumber are marinated in a vinaigrette. This makes them a bit floppy, and thus this salad is probably called Rags Soup. Add sufficiently aged Tilsiter cheese and serve it with boiled potatoes and you can't fail. Apparently this is a dish from the area where I grew up, but I don't think my mother ever made it. I like it anyway.
Wine:
Raventós i Blanc
, L'hereu riserva brut, 2006, Cava
Бутерброды со шпротами
(open sprat sandwiches)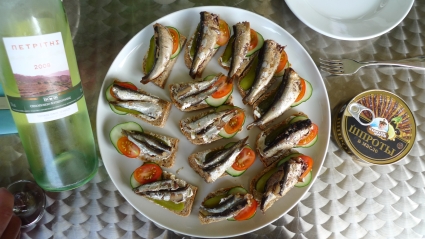 Татьяна's mother sent us some cans of sprat from
Udmurtia
in Russia (they were bought not caught in Udmurtia, since it's landlocked). We served them on Russian style cut bread,
smetana
, gherkins, cucumbers and tomatoes.
Wine: Kyperounda, Petritis, 2008.
Strawberries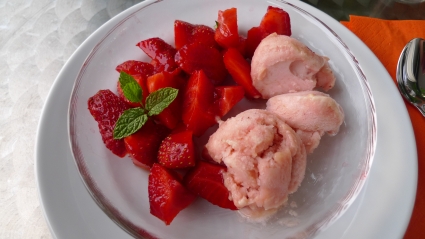 Don't forget, strawberry season will soon be over. I like then freshly cut with some raspberry & strawberry ice cream by Mövenpick and a dash of port wine.