We haven't got a cherry tree*; and

the cherry season is rather short; and
our kitchen is far too small,

thus it does not make any sense to get a fancy deluxe cherry stoner. But luckily, there is an alternative, which can be nicked at work:
paper clips
.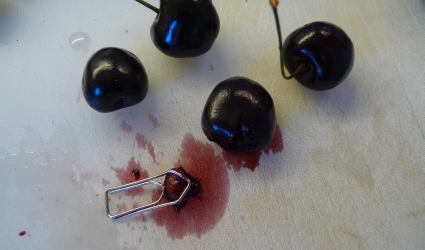 Fix the cherry with one hand and take the paper clip into the other. Stick the paper clip through the spot were the stem was attached, grab the stone with the tab on the front and lever the stone out of the fruit. Done.
I don't recommend to wear your best shirt. It can be really messy. I kind of recommend a
Dexter
approach to the stoning: wear gloves & uses easily cleanable surfaces.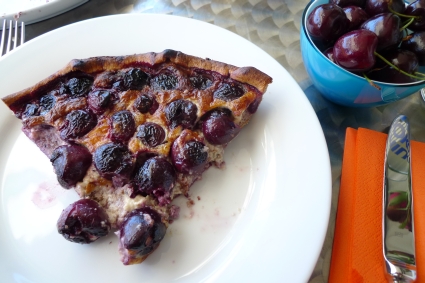 * When I was a boy my clan used to have some cherry trees. That is where I learned how to fire a rifle, since it was my task to kill the cherry eating birds. Though I got into serious trouble when I killed a songbird. Hard to sort the wheat from the chaff on a tree when you're short sighted.