Toño likes cheese cake. Most probably because he is under the impression that cheese cake does not influence the waistline. Denial can be such a comfort.
However no matter how hard I tried, I was not able to please him. I tried numerous recipes, but none could appeal to Toño. Until this weekend when I found out that it has nothing to do with the recipes...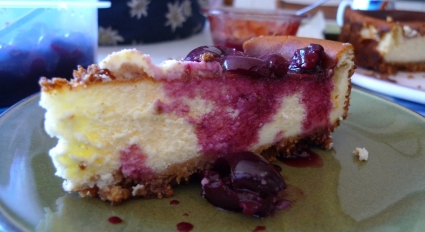 Last Thursday, my swim buddy, trained chef & fellow pooftah Beat gave me the decisive tip:
let it rest in the cold
. A cheesecake has to be treated like a steak. It should only be served well-hung.
This actually worked. A cheese cake must not be freshly made. Why didn't anybody tell me this earlier? It would have made my life so much easier.